D

irections:
From H.W. 299 Willow Creek, CA Turn onto

Country Club Lane

at the Chevron Gas Station. This is a right if you are approaching from east of Willow Creek, a left if approaching from west of Willow Creek.
Follow Country Club

.8 Miles

, stay left on to Seely McCintosh Rd.
2.9 Miles in stay right at Sun Valley Floral Farm.
4.8 Miles in Continue Straight 2 m
iles to Horse Linto Camp Ground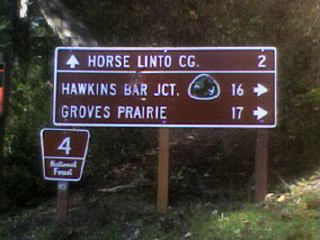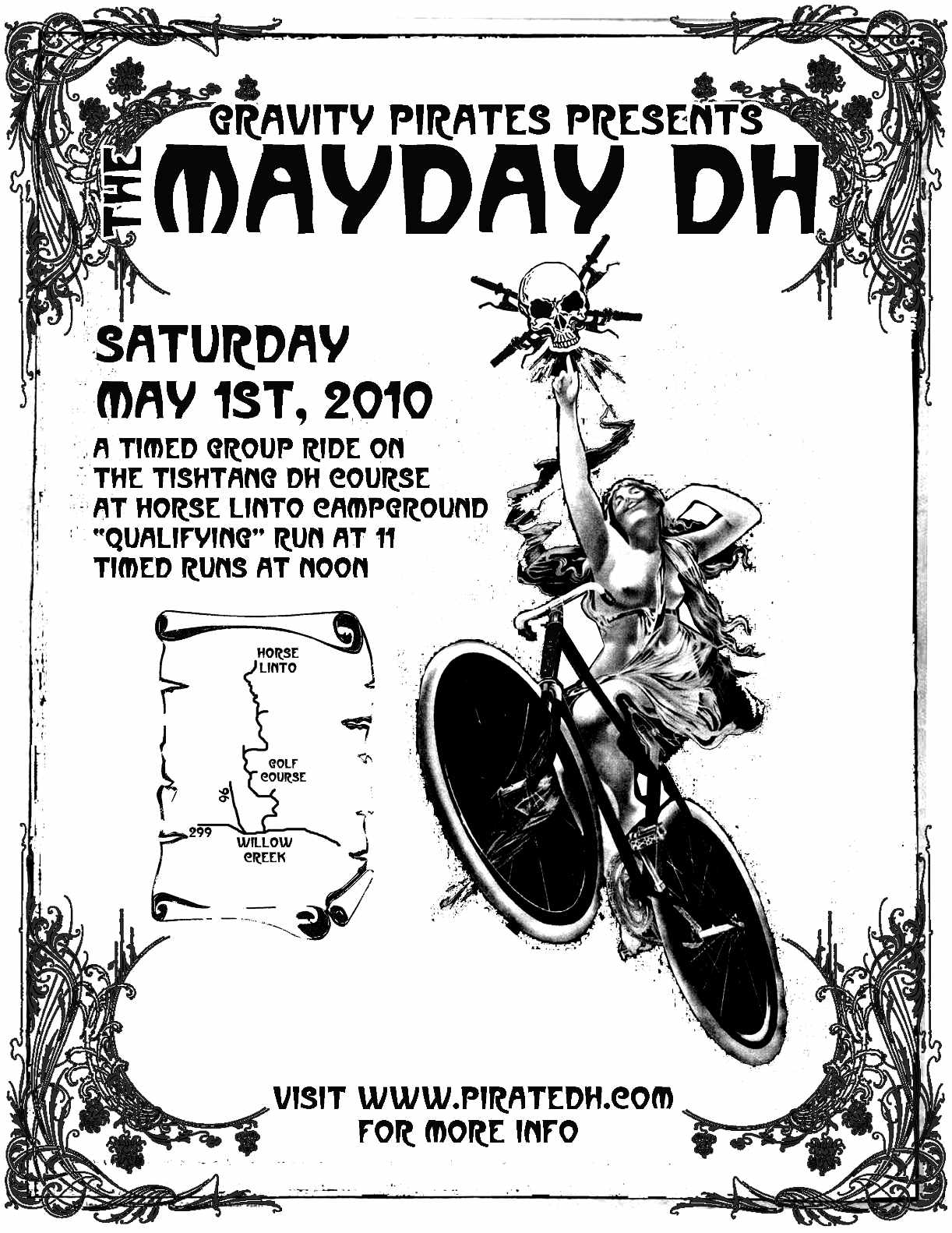 The MayDay DH was a blazing success in the eyes of those who attended. The trail was blazing fast, the sun was blazing beautiful and riders blazed in some brand new lines. Quite a treat. After heavy rains throughout the week leading up to the ride, the course received a friendly dose of Vitamin D, as its inland home begins to warm up for the spring.
Diligent amounts of course prep had the Tish Tang downhill running, perhaps, better than ever. During the final course on Friday, one "major tree issue" was located and addressed, a couple of woody victims of the week's storms had gone on to their semi final resting place. With the capable hands of Pirates on sight the obstructions were quickly relegated to saw dust.
Race day dawned to phenomenal weather in the hills. The sun was up and bringing the course to a wonderful state. Overall the bedded trail was packed, fast, and providing predictable traction. Roughly 3 mud zones made things interesting with a brief spatter to the goggles, but considering the precipitation leading up the event the trail was prime.
As is often the case, run after run the crew further improved the course, for the most part wearing in a smooth and fast line down the hill. 20 riders, all with roughly 5 runs each, that's a nice afternoon groove. Practice passed with ought but joy in shredding the trail and participants were excited to begin timed practice. A popular theme in the seeding run, as is often the case, was over amping to one's detriment. Many riders had small issues, some had larger ones coming across the line bruised, bumped, with broken visors or bent crank arms. One rider topped the competition soundly, fitting five crashes into his first run. This raised the bar for all. Though the seeding run was marred with a small timing mix up, all were ready to step up the pace in the final.
Run after run faster riders were coming down the hill and the course was adapting, in some corners (you know who you are) baby heads were being bread to bounce the riders from their lines of choice. Despite the Tangle's wily ways most improved their times, with the top two riders creeping below the five minutes (trail was roughly 1.7, most riders were averaging around 20mph for the duration). Some fell back, some bush whacked, but that's that, that's racin… But this wasn't racin, yeah, timed training, free straining second shaving.


Final

Rider Split Result
Justin Graves 2:58 4:57.10
Ryan Delong 3:01 4:58.13
Jared Delong 3:07 5:07.58
BryceGregerson 3:08 5:12.50
Joel Graves 3:14 5:16.33
Nick Rossow 3:00 5:19.75
Sean Tetrault 3:16 5:23.04
Rusty Hansen 3:17 5:26.30
Robert Rhall 3:28 5:34.74
Hank Matheson 3:24 5:40.76
Alex Cairns 3:15 5:40.88
Mike 3:34 5:53.48
Jimmy Leuchesi 4:01 6:29.65
Shaun Suma 4:14 7:13.75

*We experienced some clock confusion during the last 2/3rds of the seeding run. We believe all times in italics to be at least 20 seconds faster than normal, they may all be relative to each other, they may not be, they are listed in the order that they ran. The times are printed here so you may derive whatever you wish from them. Final run times were solid.

Seeding
Rider Split Result
Rusty Hansen 3:26 5:34.83
Jared Delong 3:08 5:08.00
Ryan Delong 3:05 5:03.27
Justin Graves 3:17 5:15.07
Sean Tetrault 3:08 5:13.25
Joel Graves 3:32 5:34.18

Brian Hapgood 2:56 5:00.47
Hank Matheson 2:43 4:49.64
Nick Rossow 2:27 4:35.10
Alex Cairns 2:31 4:44.20
Bryce Gregerson 2:13 4:18.04
Sean Andrasik 2:40 5:09.11
Shaun Suma 3:31 6:46.15
Andrew Spickerman 3:54 4:08.13
Jimmy Leuchesi 2:51 5:18.93
Gayden Rosales 3:06 5:39.48
Mike 2:46 5:01.18
Robert Rhall 5:34.08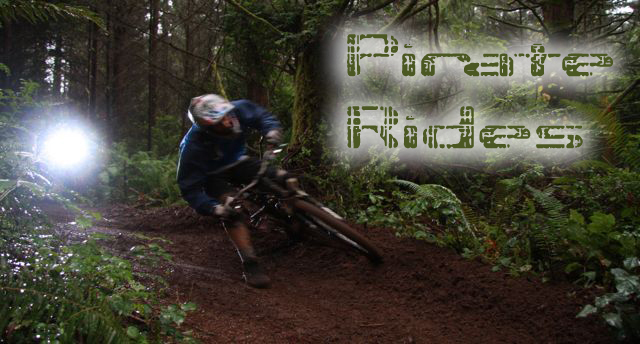 MacTown Timing
Saturday nov. 22nd
once again our ride was sandwiched by glorious days of sunshine providing the bread and sloppy rain providing the filler. Friday's practice saw the trail growing faster with each run thanks to drying earth and meticulous grooming. Then, just as our previous Loamy ride, we awoke to dark skies and steady drizzle. The fluffed soil of the day prior was now saturated ready to be churned. Initial runs were relatively slick but quick and predictable. Twenty minutes later, once practice had set in, things began to thicken. Slip turned to slop as consecutive runs became increasingly onomatopoeic, the dirt gaining an affinity to the bikes and their tires. Bikes got heavy and so did legs. Mush began to pile up into pseudo berms from the steady shralping and unavoidable drifting, making set up and body position key. Three riders tore the track on hardtails. Tim Marsh skiing with only a rear brake. Also in the one brake class was Joel Graves, who lost all front wheel deceleration after a crash in practice. Trail groomers Justin and Jared had home court advantage and held it despite having sloppy get offs of their own. Lots of fun, lots of challenge, and a trail that will be amazing once the fresh lines pack in.
name




ru

n 1

ru

n 2

Justi

n Graves


1:36.42

1:34.98


Jared Delo

ng

1:39.83

1:36.92

Joel Graves


1:54.61

1:43.67

Sea

n A

ndrasik

1:48.67

2:05.51

Matt DeYou

ng

1:48.76

1:51.17

Da

n A

nderso

n (H.T.)


1:59.61

1:58.86


Sa

ndy Ross (H.T.)


2:02.92

1:59.30

Tim Marsh


3:02.61

d

ns
Saturday November 1st
Given the previous day's holiday Bacchus raukus, combined with hard steady showers through Friday this weekends turnout was meger. For the few on course conditions were dynamic and demanding. Hard practice in dry conditions Friday had whipped up the loam in the upper flat corners. The exposed virgin dirt quickly slopped up quickly with the hard rain. The hill saw ten people throughout the day, though spread out and some not able to ride. The Loamy evolved much in the afternoon, excavation taking place to discover huge roots, ruts, and berms. Had there been more tires the change would have been even more drastic. First official timing on a seemingly solidified route, though within the trail exist some very distinct line options. Despite choosing vastly differently lines times came out very close.
| | | |
| --- | --- | --- |
| Jared Delong | 1:14 | |
| Justin Graves | 1:14 | |
| Nic Loomis | 1:25 | 1:20 |
| Brian Hapgood | 1:25 | 1:23 |